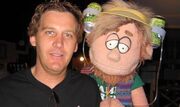 Robert "Bobby" Fletcher is Special Ed's drug-using underachiever older cousin.
Personality
Edit
Bobby is extremely rude, impolite, and insulting (though he is usually ignorant to this). He is known for generating copious amounts of gas and burping into the phone.
Bobby is something of a coward, such as one time, when he called a woman retarded, she asked him about it and he immediately denied this and carried on the conversation.
Coming soon!